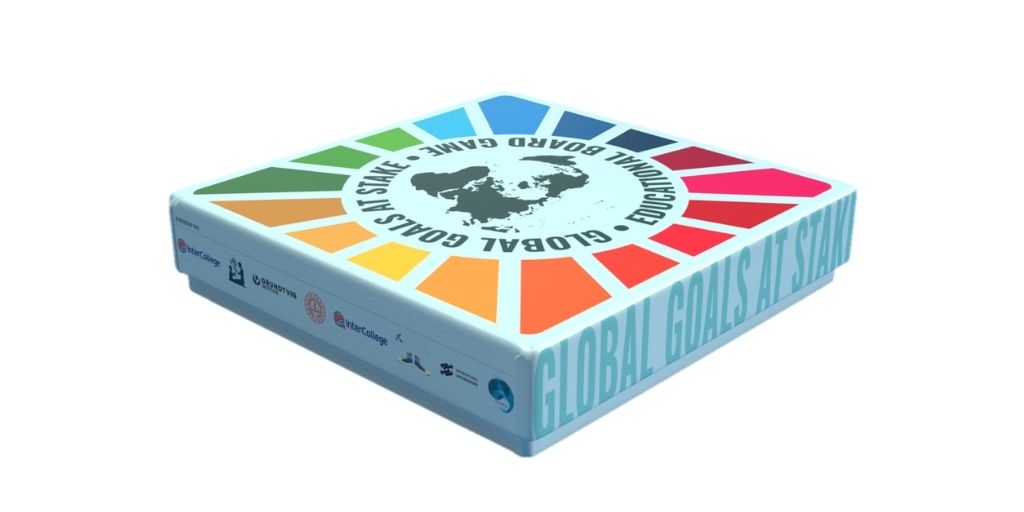 Global Goals At Stake
Global Goals at Stake

The boardgame Global Goals at Stake is addressed for you, who are interested in the United Nations' 17 Sustainable Development Goals or for you, who are looking for a tool to teach pupils and young people about the 17 Global Goals.
The game is a combination of an app and a traditional board game. Whilst the App platform allows a regular update of the game's content, the board game format maintains a social and interactive dimension.
The players are on a mission to achieve the Sustainable Development Goals. The app will allocate each team the Global Goals they need to achieve (the mission). For a team to achieve its Global Goals, they must reach their Goals by moving on the board and correctly answering the question generated by the app to that goal.
This game contains:
The app "Global Goals at Stake" that can be downloaded at App Store or Google Play.
4 team pieces
16 goal-marker pieces - (4 goal-markers per team).
1 dice - showing numbers 1-5 and a globe.
1 game board.
If you do not have the items for the game, you can download a paper version her:
You can also download the board. The content of the game is in a free App, which you can download from App Store or Google Play.
Together with the game is a Guide for Educators with introduction to The SDGs, How to use the board game in different educational sectors, How to use the game board in different school subjects, Debrief Methods, Inspiration for best practices and non-formal methods here
The game is available in 7 different languages: English, Danish, Spanish, Turkish, German, Romanian, French.
All the content (questions, actions, dilemmas) of the game is in the app, but if for some reason you need the content in a paper version, you can print it from PDF's below in different languages:

| | | | | | | |
| --- | --- | --- | --- | --- | --- | --- |
| England | Danmark | España | Türkiye | Deutschland | România | France |
| | | | | | | |
| The rules | Regler | Las reglas | Oyunun kuralları | Rules (English) | Rules (English) | Les règles du jeu |